Countries of student enrollment
Students from both the northern and the southern hemispheres apply legibly for Work and Travel USA program. Check the interactive map below to see the statistics for participating countries gathered 2006 through 2010 including countries such as Russia, China, Turkey, Mongolia, Ukraine, Serbia, Thailand, Argentina, Brazil, Kazakhstan, Ecuador, Peru, Moldova, Taiwan, Singapore, Philippines, Jamaica, Chile etc. The map also shows months of coming and leaving the US.
Worldwide J1 visa Issuances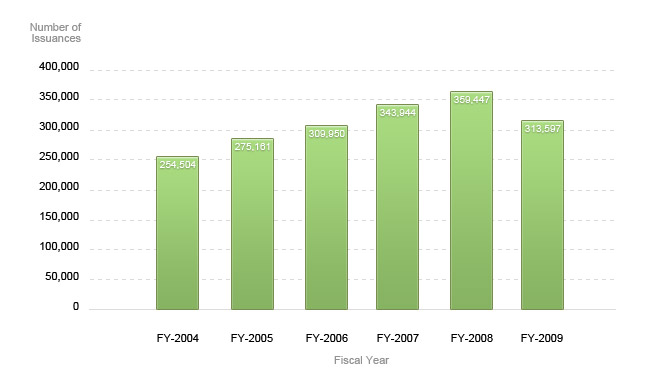 The graph above shows the statistics of J1 visa issuances for all participating countries from 2004 to 2010. As you see, Work and Travel USA remains a very popular program both among students and US-based employers.
Who exactly are J1 students?
University daytime attendance students.
Aged between 18 and 28 years old.
English-speaking.
Willing to work hard and earn cash.
Able to work for 3 to 4 months.
Have all required papers to legally work in USA.
Why don't you diversify your job environment, cut costs and benefit from seasonal hiring right now! Hiring J1 students is easy and does not require much tedious paperwork. Start putting your business into a global world context. Register here now, and call or email us with anything you may want to know. We are here to keep your business profitable with seasonable employment.