Housekeeping
Did you know exchange students can make perfect housekeeping for your enterprise?

Isn't it great to see more and more people coming to your hotel, lodge, or inn during the buzz months of the hot season? Many businesses of this kind face staff shortages at this period, resulting in housekeeping duties being neglected by the lacking personnel.
But not the businesses which partner with Jobofer.org and cover their needs with the help of seasonal hiring. There are hundreds of international applicants willing to handle the housekeeping work for you. Let Jobofer.org take care of your seasonal hiring processes, and all the housekeeping chores at your hotel, ranch or any other similar place will be handled most accurately, including:
Cleaning resident areas according to a pre-approved schedule, sweeping, scrubbing and mopping hard floor surfaces, vacuuming carpets and similar surfaces including upholstered furniture;
Dusting and wiping furniture and similar areas, washing walls, boards, ceilings, vents, shelves, etc;
Emptying trash containers and moving waste to appropriate areas;
Cleaning bathrooms and restrooms, including toilets, sinks, showers, and all the furniture inside; replenishing paper products;
Dusting lamps, lighting devices, telephones, screens, and all similar equipment; replacing bulbs if needed;
Changing linen on a pre-agreed basis, making beds, turn mattresses;
Cleaning staff offices, dusting surfaces, emptying waste containers, vacuuming carpets;
Performing other duties, including restocking housekeeping carts, assisting residents, watering plants, test emergency pull cords, etc.

Combining eagerness to bring benefit and accuracy, seasonal workers will relieve you of all the housekeeping worries!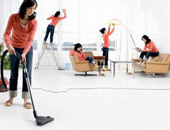 It's a good idea not to waste time right now and take care of your growing volume of housekeeping chores before summer kicks in. Jobofer.org has a vast experience in matching firms requiring extra housekeeping people with suitable candidates among exchange students.
You may be sure your workers will be responsible, qualified, and suitable. All you need to do is let us know about your specific needs concerning housekeeping stuff, and we do the rest. It requires no payment from your part. Register now, don't wait till summer comes leaving you with lots of housekeeping work to be done!