Retail staff
Need more retail staff? Seasonal employment is the right answer!

Here it does not really matter whether you are running a boardwalk gift shop or a large store. Bigger and smaller retail businesses experience the same need for extra retail people during summer, the season when sales are in full swing under the warm rays of the sun.
It is a great business decision to hire more retail staff to handle the growing amount of work and keep your retail enterprise up and running as it should be in the busy months. With years of experience in seasonal hiring for all kinds of stores behind our back, we assure you that opting for exchange students as seasonal workers for your trade point will cover all your needs and add value to your business. Take a look at the list of typical tasks exchange workers will handle while covering your needs for extra retail staff during summer:
Greeting customers, identifying their needs, pointing the customers to specific products, assisting in trying on and fitting the goods, demonstrating use of merchandise;
Conducting sales, carrying out card transactions, computing prices, operating cash registers, handling payments, keeping records;
Packaging the purchases, wrapping the gifts;
Maintaining security, identifying security risks, handling the situations;
Staying updated on current promotions and sales, observing common shop procedures;
Keeping the area clean, maintaining a neat look, wearing name badges, observing customer service standards.
Don't lose a buck when the fever starts! Benefit from seasonal hiring during summer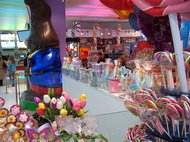 Jobofer.org assures you there are plenty of international students willing to fill your retail positions in the warm season. Speaking fluent English, being familiar with retail procedures and eager to learn about the American ways, they are ready to keep your profits rolling in. All you have to do is signing up, informing us about your specific needs, and reviewing the applications. Employers don't have to pay anything. Register right now, provide Jobofer.org with information, and we will help you hire reliable pre-selected candidates. Start now!